Thường xuyên sử dụng Idioms sẽ giúp các em nói tiếng Anh lưu loát và tự nhiên như người bản xứ. Để hỗ trợ các em gỡ rối hiệu quả chủ để GIÁO DỤC, cô đã tổng hợp và chọn lọc các Idioms thông dụng nhất trong chùm chủ đề về Education. Các em nên nhớ, chủ đề Education và đề tài Job có thể "hợp tác" rất ưng ý với nhau đó, để chứng minh điều cô nói không hề sai, các em đừng bỏ lỡ Collocation hay chủ đề Job nhé. Đã học thì phải học từ A đến Z những gì liên quan với nhau đúng không nào? Cô hi vọng các em luôn "5TING" hết mình để sở hữu số điểm Ielts thật cao nhé!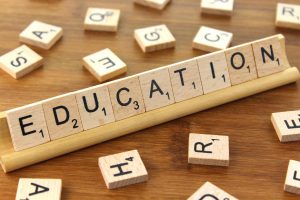 Put / get your thinking cap on (suy nghĩ nghiêm túc)
Ex: Right, we need to figure out how we're going to solve this problem before mum and dad get back, so let's put our thinking caps on!
Draw a blank (không nhận được câu trả lời)
Ex: I asked him about his plans for Christmas, but I just drew a blank. He didn't seem to understand what I was asking him.
Back to basics (dùng cách truyền thống)
Ex: They seem to prefer having everything back to basics in their office. They have minimal use of advanced technology, but apparently find everything simpler and easier to manage.
As easy as abc (dễ dàng)
Ex: That jigsaw puzzle is as easy as ABC, I don't understand why you've been struggling with it for so long.
To be a copycat (người sao chép ý tưởng người khác)
Ex: I don't like talking to her about my wedding plans because she's such a copycat! I know she'll steal my ideas and use them for her own wedding.
Cover a lot of ground (nghiên cứu nhiều điều)
Ex: We have to complete our research within the next month. We still have a lot of ground to cover, and I fear we may not get everything done in time.
Count noses (điểm danh, dùng khi kiểm tra học sinh, trẻ em)
Ex: My grandmother was constantly counting noses at the birthday party. I think she felt responsible for all the children there!
Eager beaver (làm việc chăm chỉ)
Ex: Mary is such an eager beaver, she always the first one to do whatever the boss asks.
Drop out of school (dừng việc học)
Ex: She dropped out of school at the age of 14 to help her sick grandmother at home, but now she runs her own successful nursing home for the elderly.
Show of hands (giơ tay biểu quyết)
Ex: With a show of hands, who would prefer to have longer working days but a shorter working week?
Learn something by heart / off by heart (học thuộc lòng)
Ex: She learnt all the compositions by Beethoven off by heart
Bookworm ("mọt sách" – ám chỉ người đọc sách rất nhiều)
Ex: You won't be able to convince her to come out with us, she's a real bookworm and will probably stay in to read!
From the old school (người bảo thủ)
Ex: My grandmother is from the old school, she made her children make their own lunches and walk to school.
The school of hard knocks (học từ thực tế cuộc sống)
Ex: I wasn't able to go to college, but I learnt a lot in the school of hard knocks, it taught me a lot about life.
A for effort (điểm 10 cho sự nỗ lực, dù có thể không thành công)
Ex: Jenny definitely deserves an A for effort, she put so much work into her entry for the competition.
School someone in something (đào tạo làm gì đó)
Ex: She schooled her brother in patience.
Cut class / play hooky / skip class (trốn học)
Ex: David has been cutting class again; I haven't seen him in any of our French lessons for the past week
School of thought (một triết lí hoặc cách suy nghĩ)
Ex: One school of thought holds that cats cause allergic reactions.
Tell tales out of school (lan truyền tun đồn)
Ex: I wish Gina wouldn't tell tales out of school so much, people find it hard to believe anything she says now, even if she is telling the truth!
You can't teach an old dog new tricks (bạn không thể thay đổi cách họ làm một việc gì đó)
Ex: Jeremy tries so hard to show me how the computer works, but he doesn't understand that you can't teach an old dog new tricks
Chúc các em học tốt