Không khí Tết đang đến gần, các em đã chuẩn bị được gì rồi? Tết Nguyên Đán là một ngày lễ truyền thống lớn và có nhiều ý nghĩa của dân tộc. Nhân cơ hội này, hãy cùng cô "điểm mặt" các lễ hội truyền thống của Việt Nam, nước ngoài và các từ vựng liên quan do cô tổng hợp dưới đây nhé.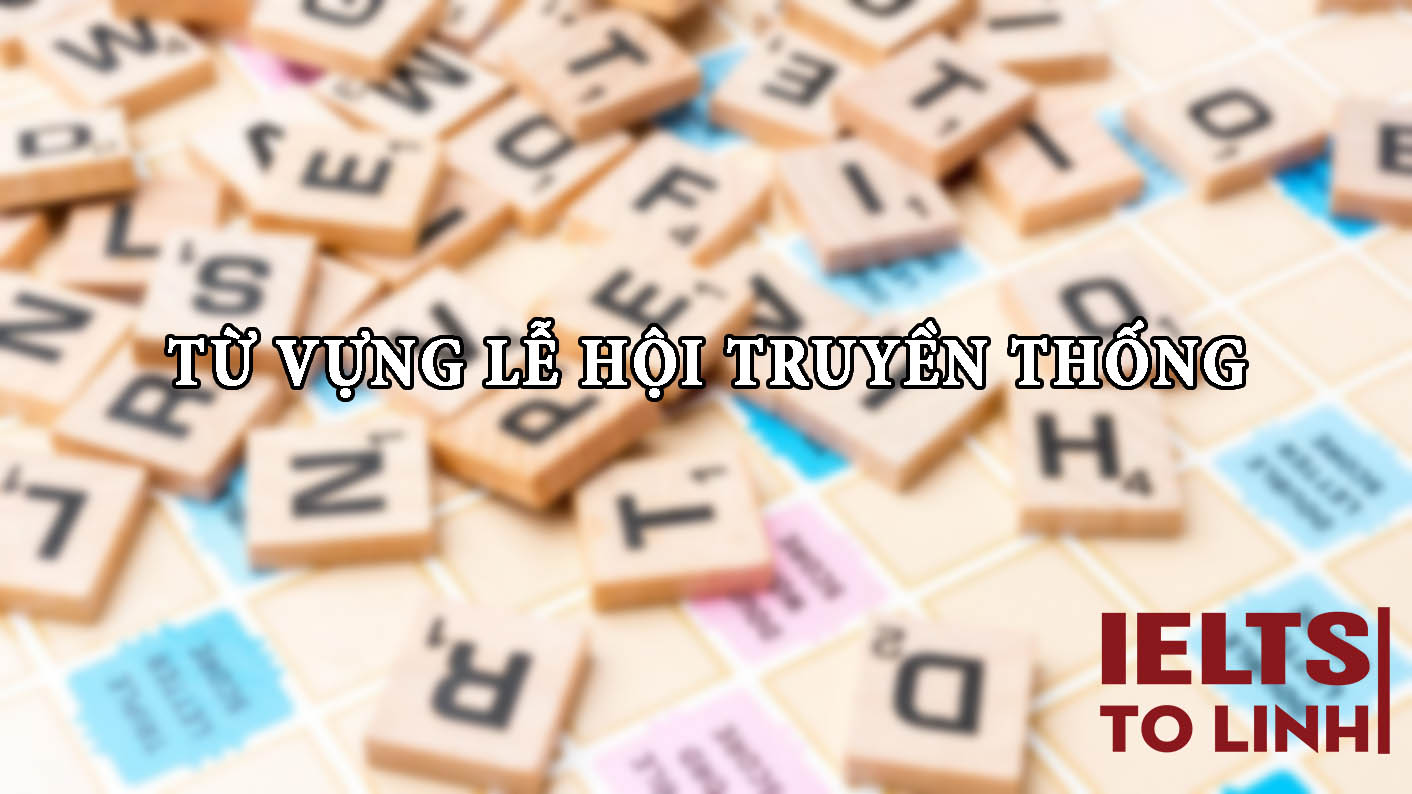 I. Vietnamese traditional festivals (các ngày lễ cổ truyền Việt Nam)
Tet holiday (Vietnamese New Year): Tết Nguyên Đán
Vietnamese New Year is the most important and popular holiday and festival in Vietnam.
Hung Kings Commemorations – 10/03: Giỗ Tổ Hùng Vương
Hung Kings' Temple Festival: Lễ hội đền Hùng
The Hùng Kings' Temple Festival is a Vietnamese festival held annually from the 8th to the 11th days of the third lunar month in honour of the Hùng Vương or Hùng Kings.
Latern Festival – 15/1: Tết Nguyên tiêu- Rằm tháng Giêng
The Lantern Festival, also known as the Moon Festival or Mid-Autumn Festival, is a vastly celebrated holiday throughout East Asia
Mid-Autumn Festival – 15/8: Tết trung thu
Besides the Tet Holiday, the Mid-Autumn festival is one of the most famous festivals and it is a traditional celebration for Vietnamese children.
II. Popular Worldwide Holidays (các ngày lễ cổ truyền Việt Nam)
New Year's Day: Ngày đầu năm mới
Ex: New Year's Day, also called simply New Year's or New Year, is observed on January 1, the first day of the year on the modern Gregorian calendar as well as the Julian calendar.
New Year's Eve: đêm giao thừa
Ex: In the Gregorian calendar, New Year's Eve, the last day of the year, is on December 31 which is the seventh day of the Christmas season
Easter: Lễ Phục Sinh
Ex: It's Easter morning and we're on our way to church.
May Day: Ngày quốc tế Lao động
Ex: May Day is a public holiday usually celebrated on May 1
Christmas: Lễ giáng sinh
Ex: The Christmas tree could only be seen from the back of the house, but that didn't matter.
Boxing Day: Ngày lễ tặng quà
Ex: Boxing Day is a holiday celebrated the day after Christmas Day. It originated in the United Kingdom, and is celebrated in a number of countries that previously formed part of the British Empire.
Thanksgiving: Lễ Tạ Ơn
Ex: In the meantime, Thanksgiving was coming up – and then Christmas.
Halloween: Lễ hội hóa trang Halloween
Ex: You know, the full moon is two days before Halloween this month.
III. Festive food Vietnamese love
(Vì tất cả đều là món ăn phổ biến trong ngày Tết cổ truyền Việt Nam nên rất dể để đặt câu đấy các em)
Square glutinous rice cake: bánh chưng
Sticky cake: gạo nếp
Jellied meat: thịt đông
Pig trotters: chân giò
Dried bamboo shoots: măng khô
Lean pork paste: giò lụa
Pickled opinion: dưa hành
Pickle small leeks: củ kiệu
Roasted watermelon seeds: hạt dưa
Dried candied fruits: mứt
Fatty pork: mỡ lợn
IV. Và vô vàn các từ hữu ích khác
Spring festival: hội xuân
The Spring Festival is the most important festival for the Chinese people and is when all family members get together, just like Christmas in the West.
Family reunion: đoàn tụ gia đình
Ex: A family reunion is an occasion when many members of an extended family congregate
Five-fruit tray: mâm ngũ quả
Ex: A five-fruit tray which cannot be missed in Tet holiday is the symbol for the admiration and gratitude of the Vietnamese to Heaven and Earth and their ancestors to express their aspiration for prosperity, good luck, good health and happiness.
Dragon dancers: múa lân
Ex: Dragon dance is a form of traditional dance and performance in Chinese culture.
Worship the ancestors: thờ cúng tổ tiên
Ex: The custom of worshiping ancestors is a beautiful, rich, and colorful and joyful tradition in Vietnamese culture.
Lucky money: tiền lì xì
Red envelope: phong bao lì xì
Ex: Vietnamese have had the tradition of giving small children lucky money in red envelope on the first day of Lunar New Year.
Cô chúc các em học tốt