Để các bạn tiết kiệm thời gian hơn cho việc học từ, cô đã tổng hợp lại các Collocation cần thiết cho chủ đề Công việc. Khi đã nằm lòng các từ vựng này, việc triển khai ý của các bạn cũng sẽ thuận tiện hơn và gây ấn tượng tốt cho examiner đấy!
Mỗi chủ đề đều có từ vựng, idiom hay và collocation đa dạng và phong phú. Không chỉ riêng về đề tài Job hôm nay, các em sao không ghé qua Từ vựng về Relationship nhỉ? Học một chủ đề không bao giờ là đủ, nên nhớ hãy dàn trải đều kiến thức ở những chủ đề khác nhau, tránh trường hợp lúng túng khi gặp phải các em nhé!
Chúc các bạn học hiệu quả!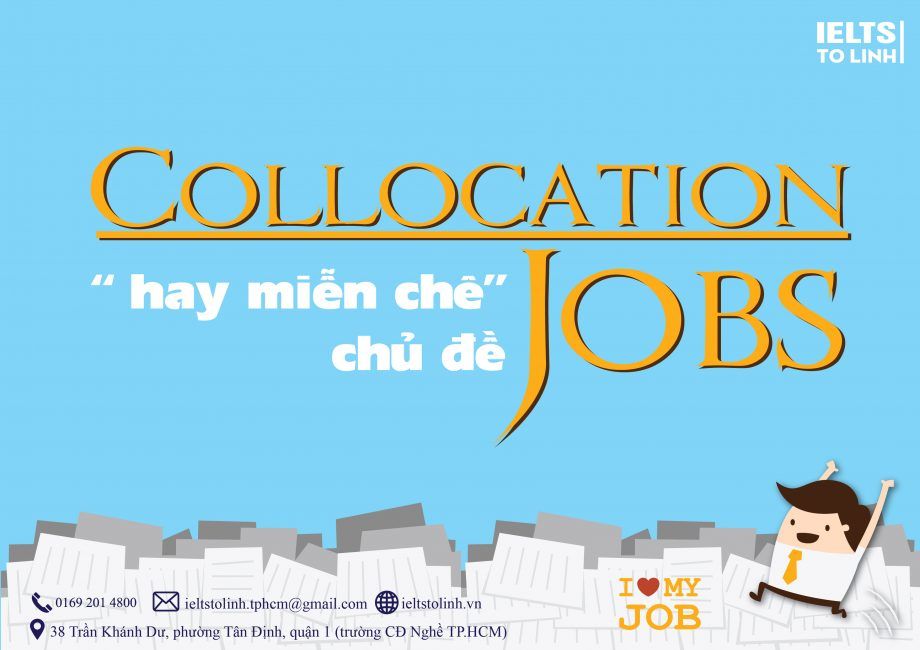 1.Get a better job: có công việc tốt hơn
Ex: In order to get a better job, I have to study for a language certificate.
2.Good promotion opportunity: Cơ hội thăng tiến tốt
Ex:Being hard working, competitive and good at team work, you will have agood promotion opportunity in this company.
3.Run one's own business: Điều hành công ty của riêng mình
Ex:I want to startup when I graduate from this university. I could take control and run my own business.
4.Meet the qualifications: Đạt được những yêu cầu
Ex: To have a position in Unilever, you have to be very excellent, outstanding and meet all the qualifications they required.
5.Be on the dole: Hưởng trợ cấp thất nghiệp
Ex: In Viet Nam, people who has not had a job to serve themselves will be on the dole, according to 2013 Working Laws.
6.Learn from mistakes/ experiences: Học hỏi từ những sai lầm/ những trải nghiệm
Ex: Learning from mistakes – the best lesson that is suitable for everyone.
7.Fulfil the requirements: Thoả mãn những đòi hỏi
Ex: Having fulfilled the requirements they offered, I take the chance to work as Marketing Executive in PepsiCo.
8.Self – employed: tự làm chủ
Ex: I want to be self – employed after 3 years working for Mr.Thanh.
9.Run a marketing campaign: chạy một chiến dịch tiếp thị
Ex: Before running a marketing campaign, you should well prepare for everything: master plan, detailed strategy and budget plan.
10.Have a good working – life balance: Có sự cân bằng trong công việc và đời sống
Ex: However hard you try to achieve your goal in this job, you should have a good working – life balance.
11.Relevant experience: Kinh nghiệm có liên quan
Ex: Beside certificates and influency in foreign language, this position requires relevant experiences.
12.Take gap year: có một năm nghỉ ngơi, tạm ngưng việc học
Ex: After first year as a freshman, I take gap year, attend a marketing course, work part time to gain experience. Then, I will take an IELTS exam to go and study abroad.
13.Earn a competitive salary: Có được mức lương tốt
Ex: Dealing to have a low price on this contract, I earn a competitive salary from this month.
14.Be good at going under pressure: chịu áp lực công việc tốt
Ex: An intensively hard job needs people who are good at going under pressure.
15.In a professional working environment: Trong một môi trường làm việc chuyên nghiệp
Ex: When you work with us, not only will you earn a competitive salary, but also you will gain experience from others in a professional working environment.
16.Interpersonal skills: kỹ năng giao tiếp ứng xử, xây dựng quan hệ
Ex: In the world that work changes so rapidly, company often requires interpersonal skills to build relationship worldwide.
17.Be off work at the moment: Đang tạm nghỉ việc
Ex: I am in 7th ofpregnant period and off work at the moment.
18.A short term contract: hợp đồng ngắn hạn
Ex: I love to skip work over the time, so, I am on a short term contract.
19.Take a drop in salary: Giảm lương
Ex: Due to the fact that our company has been in the red, we must take a drop in salary.
20.Be more rewarding than: Đáng làm hơn
Ex: Offering more benefits to the employees, this job is more rewarding than anything else.