Học Speaking thì không thể không nhắc đến Idiom rồi phải không nào? Trong bài viết ngày hôm nay, Linh sẽ gửi đến các bạn những Idiom hỗ trợ lên band Speaking cực kì thông dụng trong IELTS nha. Với một bài thi nói, chỉ cần các bạn sử dụng 1 đến 2 Idiom thôi đã đủ "chinh phục" giám khảo rồi đó, vậy thì đừng chần chừ nữa, hãy bắt đầu bài học với các Idiom trong IELTS cực đỉnh này nhé!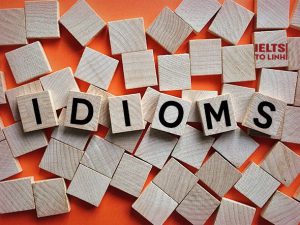 Fair and square: công bằng, thẳng thắn
I won the contest fair and square.
Fall for: cảm nắng ai đó
I fell for her as soon as I met her.
Feather in one's cap: niềm tự hào
His speech went well at the corporate meeting. It was a feather in his cap
Feel in one's bones: linh cảm, linh tính
I believe he is going to get the promotion. I can just feel it in my bones.
Feel like a million bucks: cảm thấy hưng phấn, thoải mái
I felt like a million bucks when I wore my new suit to the wedding.
Feel like two cents: cảm thấy xấu hổ, ngượng ngùng
I felt like two cents when I dropped the birthday cake on the floor.
Fish out of water: cảm thấy không thoải mái
She felt like a fish out of water when she went to the party in her formal dress while everyone else was wearing jeans.
Fly off the handle: nổi cơn tam bành
Her mother flew off the handle when she found out that her daughter dropped out of college.
Fly-by-night: không đáng tin cậy
I don't want to buy my computer from that store. It's a fly-by-night company; they may not be in business next year.
From the bottom of one's heart: từ tận đáy lòng
My sister thanked me from the bottom of her heart for saving her dog's life.
From scratch: bắt đầu từ con số không
This chocolate was not made from a cake mix, she made it from scratch.
Get a grip on oneself : giữ bình tĩnh, kiềm chế
When he lost the soccer game, he couldn't stop crying. I told him to get a grip on himself.
Get cold feet: chùn bước vào phút chót
I was prepared to make a speech, but I got cold feet when I saw how many people were going to hear it.
Get in on the ground floor: tham gia từ những ngày đầu tiên
He is a very wealthy man. He was one of Microsoſt's first employees and got in on the ground floor.
Get in the swing of things: thích nghi với môi trường mới
After working two weeks in the new department, I finally got into the swing of things
Get off the ground: khởi đầu thuận lợi
I finally got my business off the ground.
Get to the bottom of: tìm ra nguyên nhân sâu xa
After talking to my friend for an hour, I finally got to the bottom of why he was angry at me.
Get up and go: năng nổ tháo vát
She always seems so excited and motivated at work. She's got a lot of get up and go.
Give a hoot: quan tâm
I don't give a hoot who wins the election.
Give the cold shoulder : đối xử lạnh nhạt, hờ hững
I was so mad at my cousin, that I gave her the cold shoulder at the wedding reception.
Give someone a break: tạo cơ hội cho ai
The actor struggled for many years. Finally, someone gave him a break and put him in a movie.
Go Dutch: mạnh ai nấy trả
If we have dinner together, I insist that we go Dutch.
Các Idiom trong bài giảng hôm nay không quá dài và quá khó phải không, các bạn hãy ghi chép chúng cẩn thận trong notebook của mình nhé! Tiếp đến nếu các bạn cần những Idiom nâng cao hơn để nâng level lên "một tầm cao" mới, Linh đã có đây cho các bạn Tổng hợp Idiom band 8 IELTS Speaking nhé!
Chúc các bạn học tốt!
Trần Tố Linh